TLDR​
As of May 2022, WooCommerce businesses can connect their online store to TikTok. This allows them to sync their product catalog with TikTok and run ads on the platform. It's also possible to add the TikTok pixel to your website, which lets you track conversions from customers who land in your eCommerce shop from a TikTok Ad.
TikTok released an official plugin in tandem with its WooCommerce integration, called TikTok for WooCommerce, which does all of these things. It's fine for uploading your product catalog to TikTok, but it's very limited when it comes to pixel tracking.
A better alternative would be Pixel Manager for WooCommerce, which lets you add the TikTok pixel to your site as well as pixels from a multitude of other platforms. The plugin is pre-configured to track important events that happen in your store and can be set up for dynamic remarketing on TikTok Ads.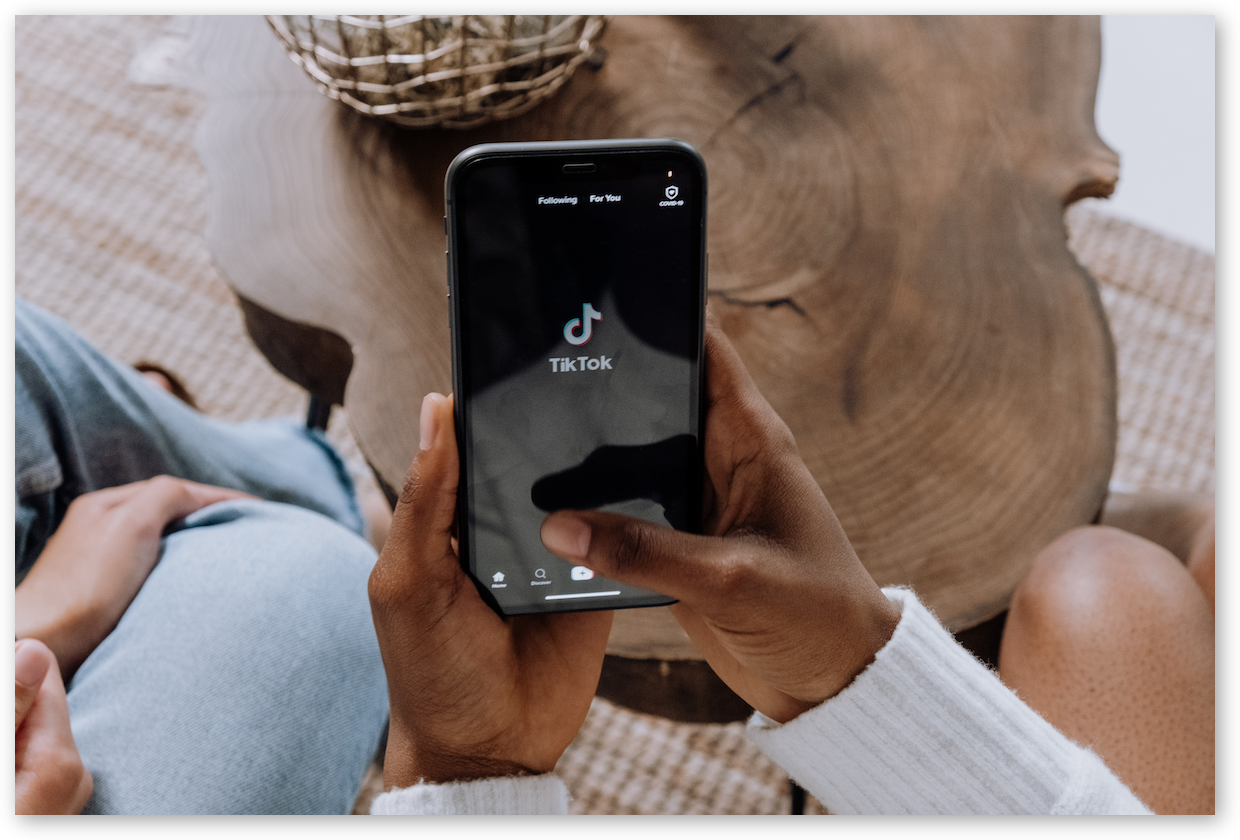 Do you want to know whether your TikTok ads are resulting in conversions? You need to add the TikTok pixel to your WooCommerce store!
Most of us associate TikTok with silly dances and fun videos, but it's become a powerful and engaging marketing tool. Thanks to a new integration, WooCommerce store owners can finally run ads on TikTok, but spending money on ads is a risk if you have no way of analyzing how people behave after landing on your site through a TikTok Ad.
Are they actually converting to paying customers or bouncing right away? If they don't purchase anything or engage with your content, chances are your targeting is off, or your advert isn't resonating with your audience the way it should.
Adding the TikTok pixel to your WordPress website will help solve the issue and help you get the insights you need to optimize your ad spending. In this article, we'll show you how to add it to your WooCommerce site using the Pixel Manager for WooCommerce plugin.
Why should you add the TikTok pixel to your WooCommerce site?​
On May 25, 2022, TikTok announced that it would finally integrate with WooCommerce, enabling merchants to sync their product catalog to WooCommerce and run different types of ads, including Collection Ads, Dynamic Showcase Ads, Lead Gen Ads, and Spark Ads.
If you've ever tried your hand at digital marketing, you already know that running ads alone is not enough. You need to know how well your ads are performing and that's why adding the TikTok pixel to your WooCommerce site is so important. The TikTok pixel records events that happen on your site after a visitor lands there through an ad.
The insights this pixel generates can be extremely valuable. For example, if the TikTok pixel tracks a high rate of purchase conversions on a particular item, then you'll know that your ad for that item is performing well.
On the other hand, if you're getting a lot of traffic from a specific TikTok Ad, but the pixel isn't tracking purchase events, there could be a problem with your site that's getting in the way of your customer and preventing them from moving further along the customer journey.
TikTok for WooCommerce is the official WordPress plugin born out of the partnership between TikTok and WooCommerce. It allows you to sync your catalog and create TikTok Ads. It also lets you install the TikTok pixel on your site but its pixel-tracking functionality is fairly limited.
TikTok for WooCommerce only uses server-to-server tracking at the moment, which can be a problem on websites where most of the content is cached. The server will not detect any activity, which means you won't be able to collect any data about your customers. Plus, the official TikTok plugin ignores user cookie consent, which means that you risk breaching strict privacy laws if you use it on your site.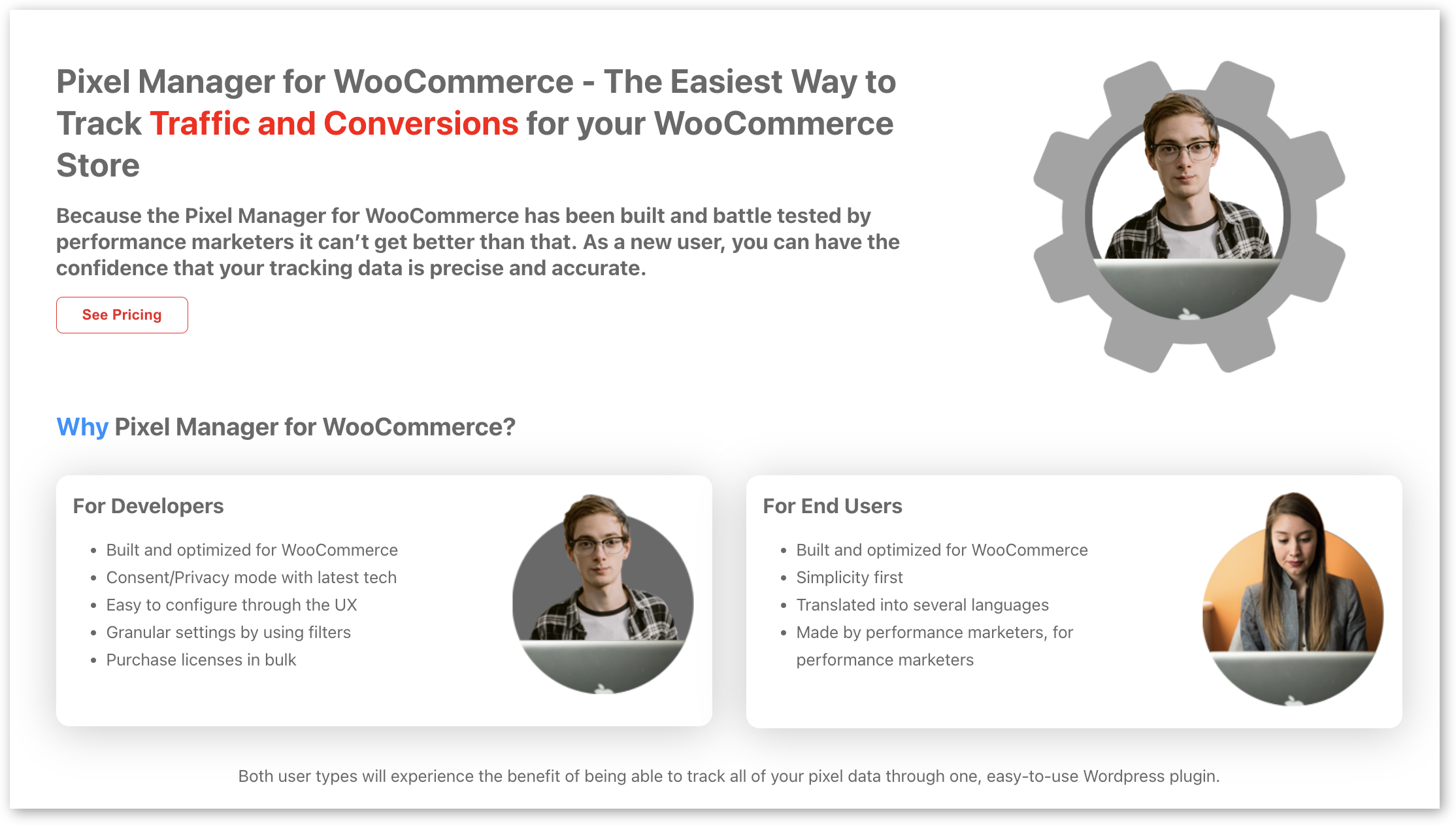 Considering how important and impactful pixel tracking is, we recommend using a more advanced plugin. Pixel Manager for WooCommerce is the best pixel-tracking plugin available, and in this next section, we'll show you why!
Why Pixel Manager for WooCommerce is the best pixel tracker for TikTok​
Pixel Manager for WooCommerce is a powerful pixel tracking plugin that makes it really easy for anyone to add the TikTok pixel to their WooCommerce site and track conversions from ads - even if you aren't tech-savvy.
The pixel sends data to the TikTok Ads Manager, where you can find your conversion reports at any time. Pixel Manager for WooCommerce currently uses browser-based tracking, as well as server-to-server tracking via the TikTok Events API.
Pixel Manager for WooCommerce uses the TikTok pixel to track purchase events, purchase transaction ID, purchase currency, and all dynamic remarketing events, and utilizes event deduplication so that your data is consistently accurate. You can use Pixel Manager for WooCommerce to set up dynamic remarketing for TikTok Ads, which means you have the chance to target people who have visited your site and viewed specific products but left without making a purchase. This will keep your products top-of-mind and increase the likelihood that someone will come back to your store and make a purchase at a later stage.
All you need to do to prevent issues with dynamic marketing is to upload your product catalog to TikTok with post ID as the identifier.
Pixel Manager for WooCommerce is far more accurate than any other pixel tracker on the market, with accuracy as high as 100%. This means you will be able to form a reliable picture of how well your ads are performing at any given moment.
Unlike TikTok for WooCommerce, Pixel Manager for WooCommerce detects cookie consent and acts accordingly. You can set the plugin to Implicit Consent Mode (which tracks behavior until consent is denied) or Explicit Consent Mode (which doesn't track behavior until consent is explicitly given). You can choose to process anonymous hits using the plugin, which means that is a user denies consent the Pixel Manager will generate a random ttp ID, and send an anonymized Event API hit to TikTok.
You can also enable TikTok Advanced Matching, which means that the plugin will send additional visitor identifiers to TikTok such as their IP address and email. This makes it possible for TikTok to match the hit to an existing user profile. However, you should only enable this option if it aligns with your local regulation.
As TikTok Ads are relatively new for WooCommerce, it's likely you're running Ads using other platforms too. Pixel Manager for WooCommerce is a horizontal integration plugin that allows you to add pixels from various other platforms you might want to use. These include Google Ads, Meta (Facebook) Pixel, Google Analytics, Google Optimize, Microsoft Ads, Twitter Ads, Pinterest Ads, Snapchat Ads, and Hotjar.
How to add the TikTok pixel to your store with Pixel Manager for WooCommerce​
It may sound complicated, but adding a TikTok pixel to your WooCommerce store is surprisingly simple when you use Pixel Manager for WooCommerce.
Start by purchasing the plugin. Pricing is based on how many websites you have and need the plugin for, so if you only have one website, the Starter tier is perfect for you. You'll be able to download your plugin as a zip file.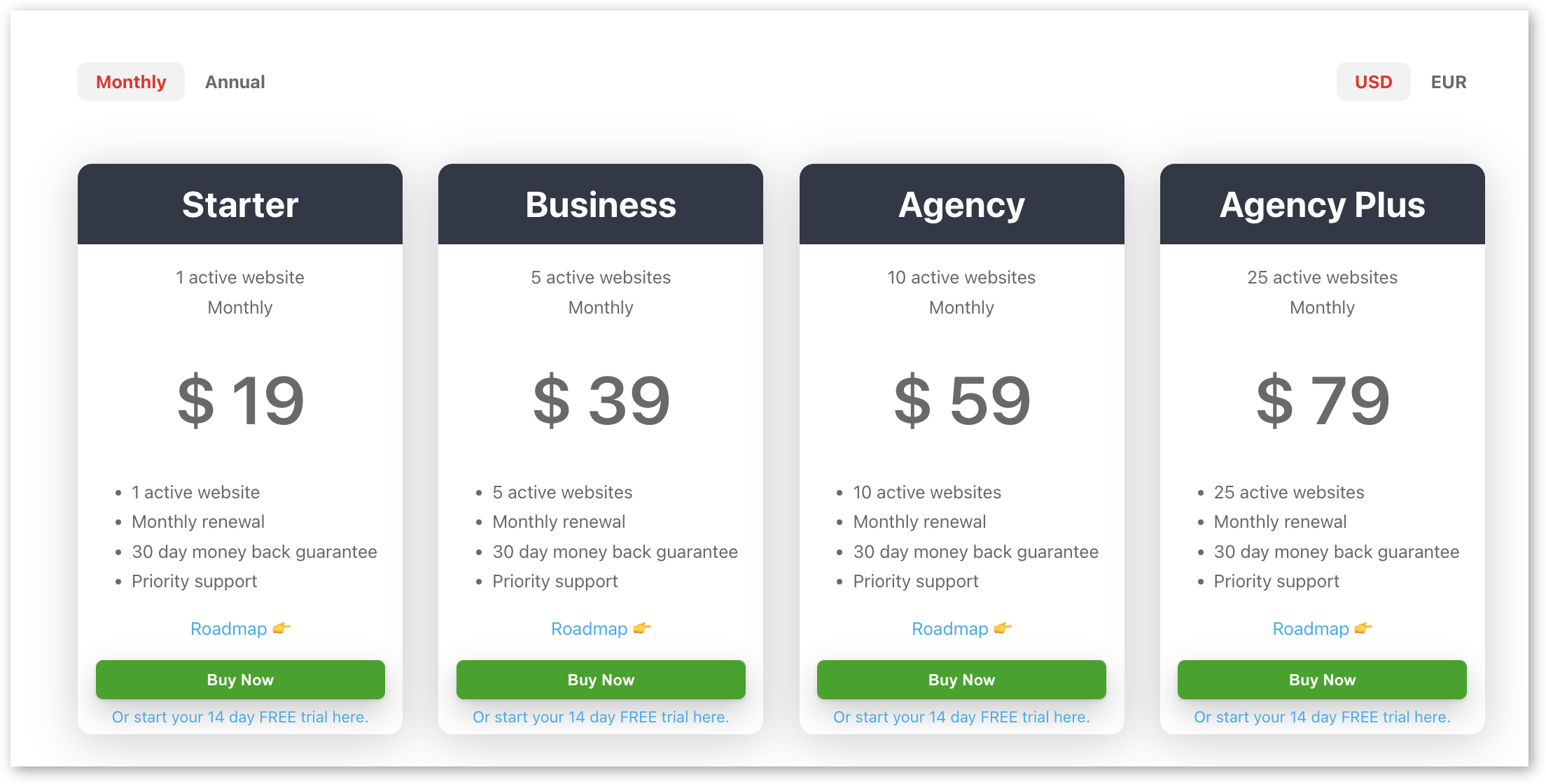 Then, upload and activate the plugin in the WordPress backend as you would any other plugin.

Next, you'll need to create the TikTok pixel. Go to the TikTok Ads Manager. In the menu, click Assets and then Event > Web Events > Manage > Set Up Web Events. Click on TikTok Pixel as your connection method, and click the Next button.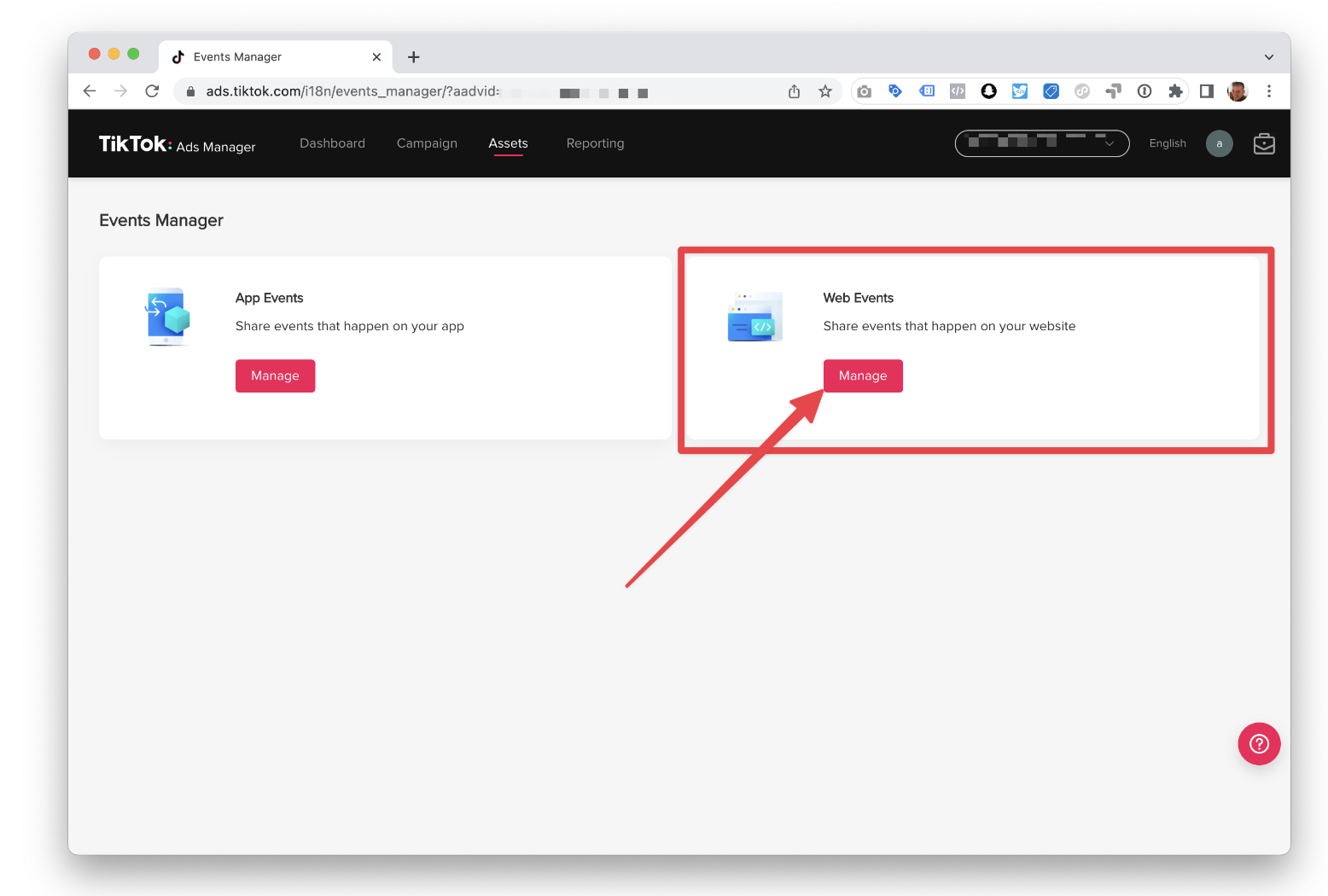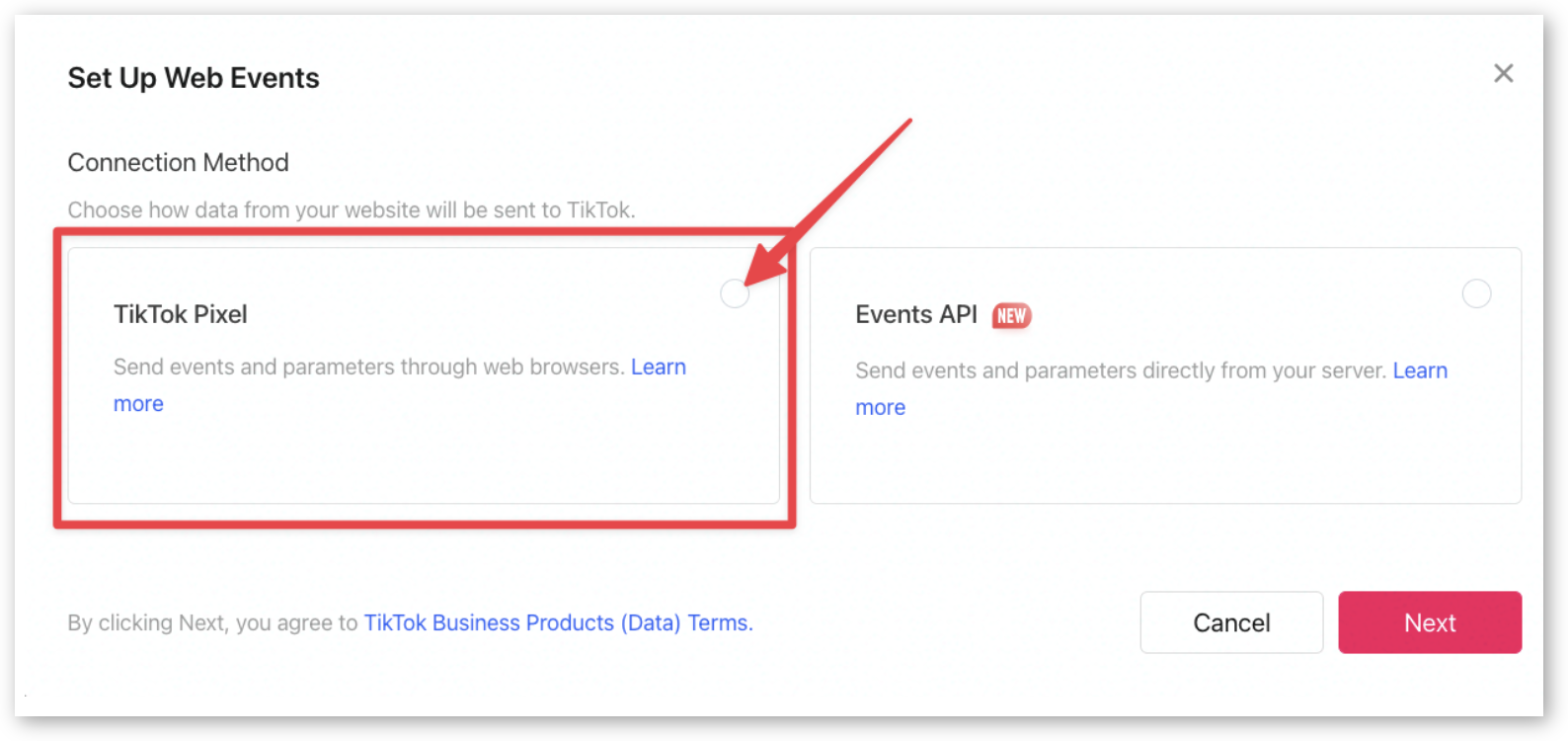 Name your pixel. TikTok recommends that you give the pixel a name that corresponds to your website or domain name, with a maximum length of 128 characters (including spaces). Select Manually Install Pixel Code and click Next.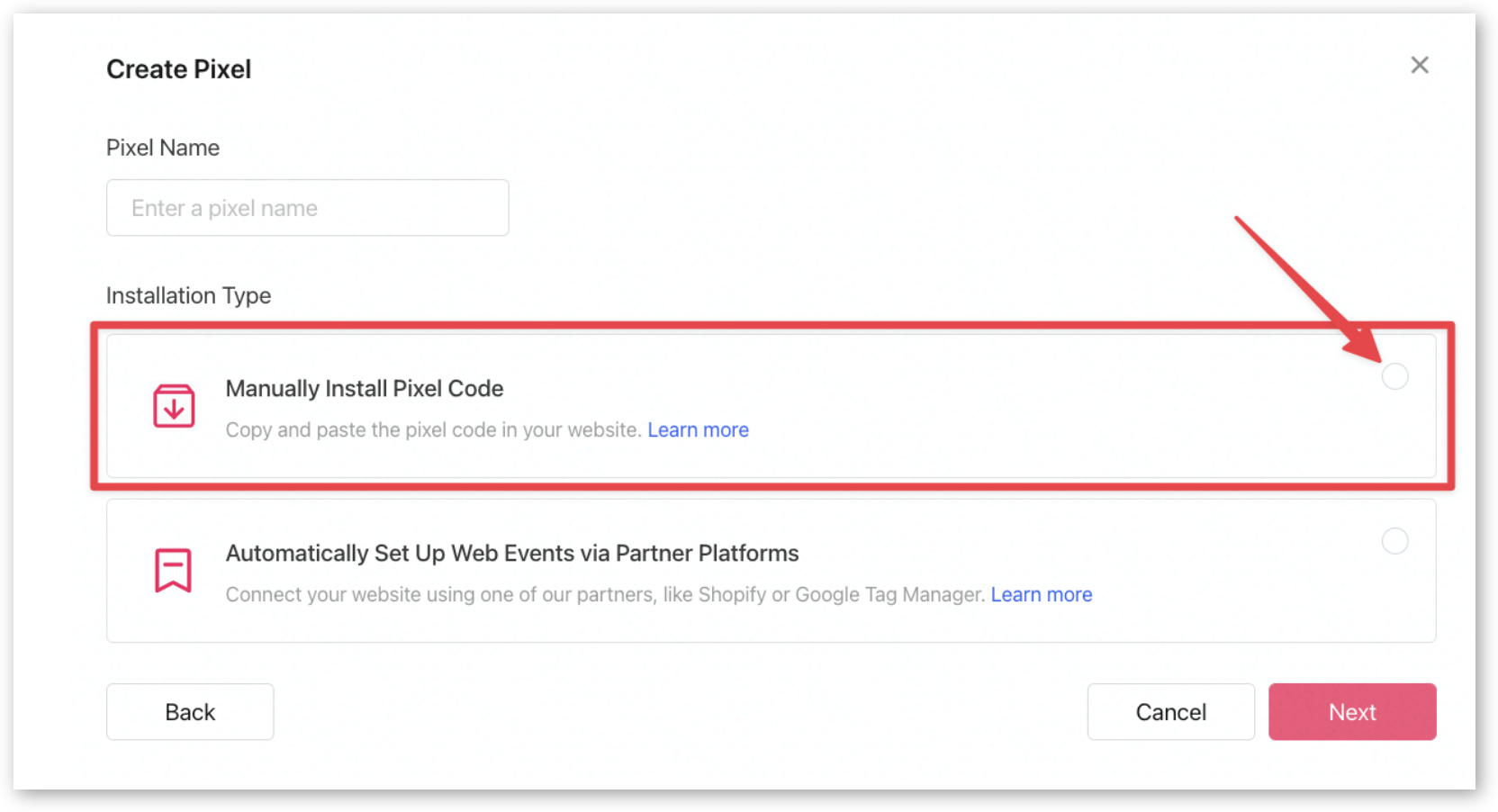 Select Developer Mode, then Create.

Copy the TikTok pixel ID and paste it into Pixel Manager for WooCommerce by going to WooCommerce > Pixel Manager > Main Tab > More Pixels. The plugin will now send events to the TikTok Ad Manager which you can easily track.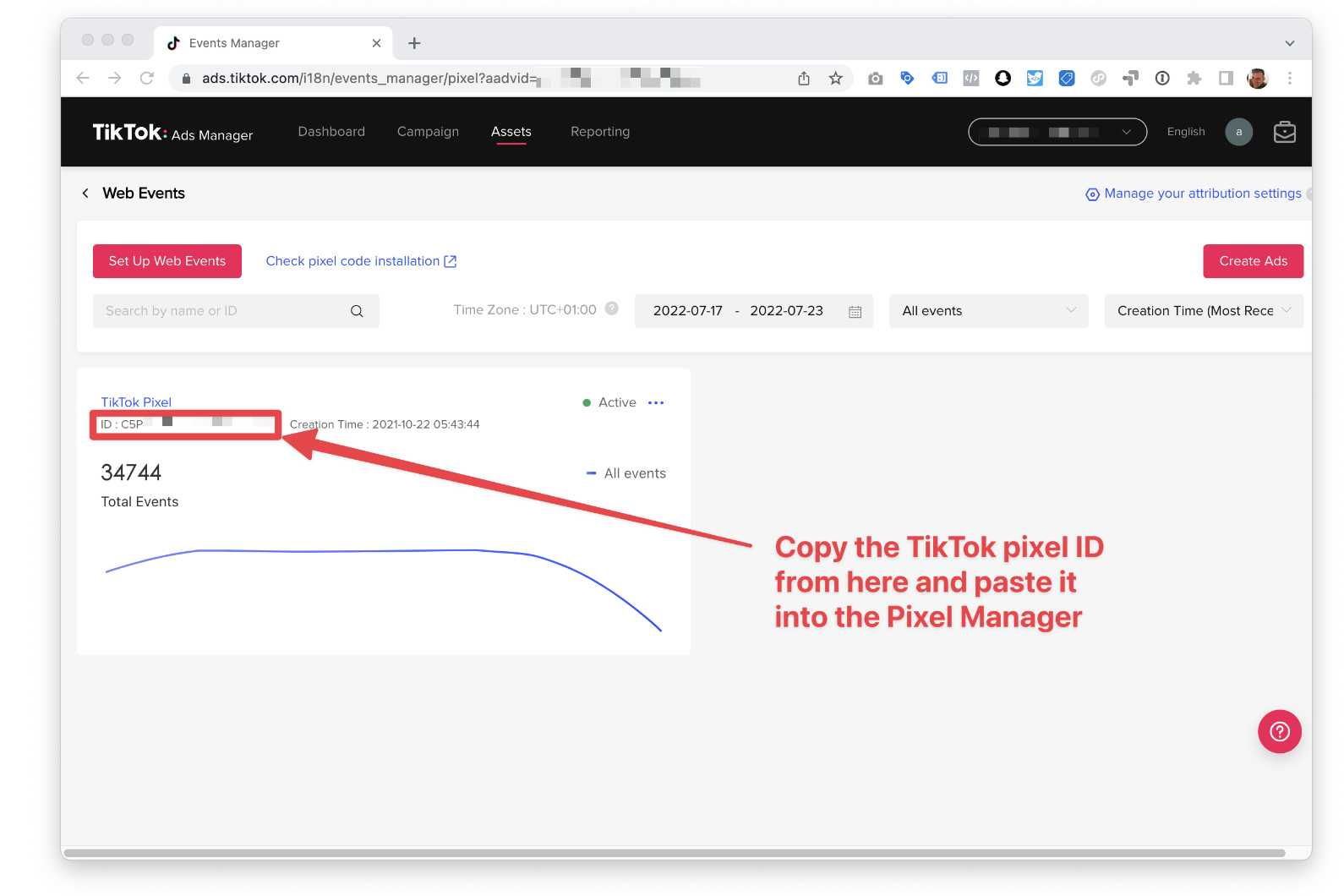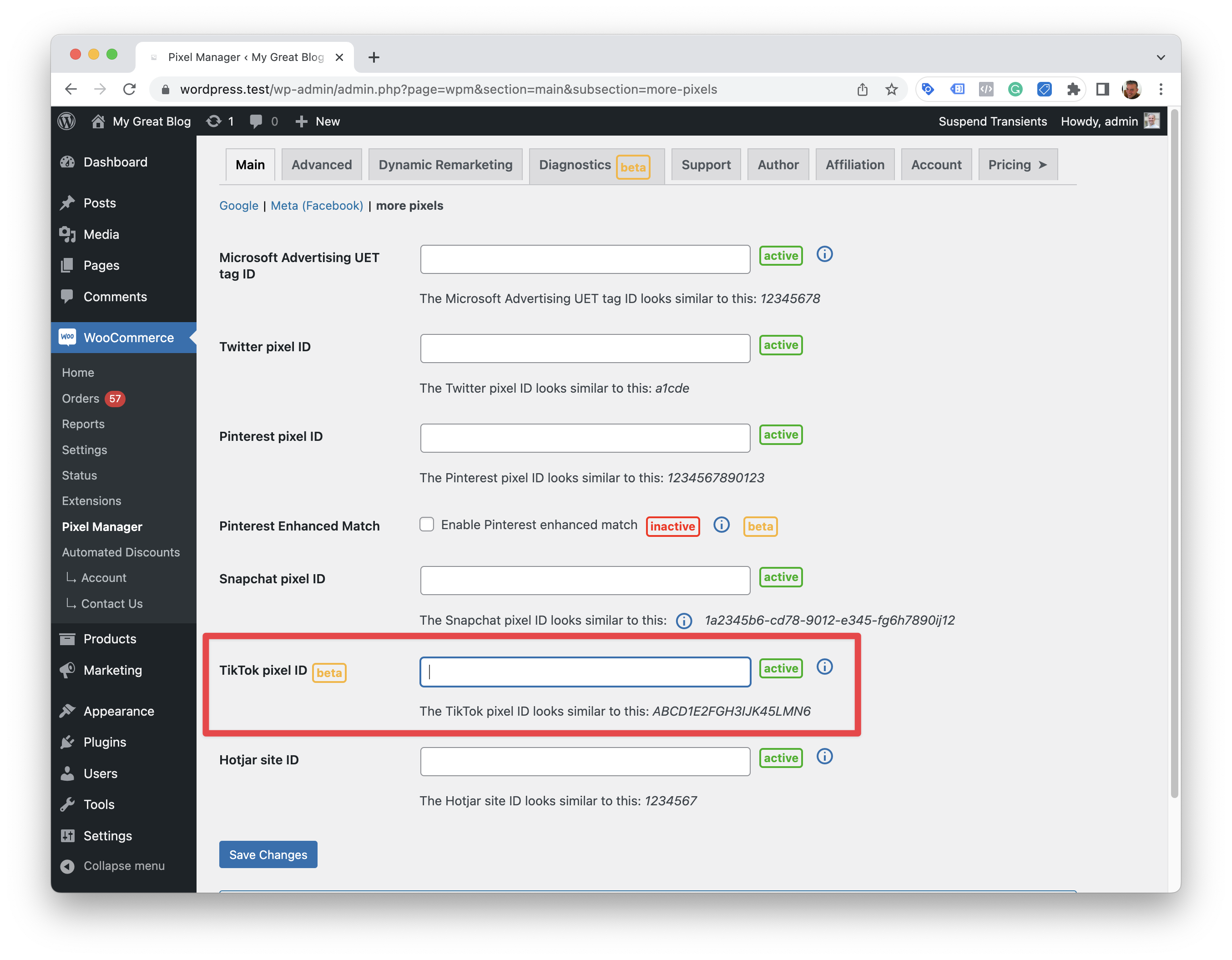 To set up Pixel Manager for WooCommerce with the TikTok Events API, you need to generate an access token. To do this, you'll need to go back to Assets > Events, and click Manage in the Web Events section. Once you find the pixel you want to use for reporting events, you can click on it to view its setting. You'll then click the Generate Access Token button.
Once you have the access token, paste it into the Pixel Manager by going to WooCommerce > Pixel Manager > Advanced > TikTok.
If you aren't sure whether or not your pixel is firing correctly, install TikTok Pixel Helper, a Chrome extension that helps you verify and troubleshoot pixel installation. TikTok Pixel Helper will check for errors and provide implementation recommendations for your website to ensure tracking is accurate.
Track your TikTok Ads conversions with Pixel Manager for WooCommerce​
Using a pixel to track the conversions coming from your TikTok Ads is the best way to measure whether or not your TikTok Ads are delivering the way they should. You can easily calculate the return on investment of your marketing spend, A/B different messages to see which ones deliver the best conversion rates, and learn more about the behavior of your site visitors.
Pixel manager for WooCommerce is the best pixel tracking plugin for TikTok and a number of other ad platforms as well. It's easy and intuitive to use, so you can start tracking conversions in minutes.
Pick your plan and start reaping the benefit of more accurate and insightful TikTok Ad data today!